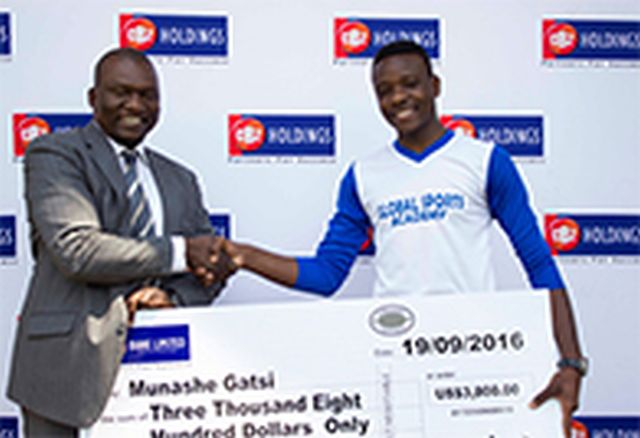 CBZ Holdings sponsored Munashe Gatsi, a young talented football player of Global Sport Africa with a cheque of $3800 to facilitate his travel to England's Watford for trials.
Speaking at the handover ceremony held at Celebration Centre on the 19th of September, Mr Nyemudzo said CBZ believes in nurturing young talent and is proud to be associated with youths who are disciplined and focussed.
Global Sports Africa Representative Maria Knife explained saying, "Munashe was selected to attend these trials in England mainly due to his playing ability and hardworking approach in the sport. This boy was set to miss the trials which were set up by our partners PFA Academy. Thanks to CBZ, now he will be rubbing shoulders with some of the best players in England who will attend these highly sought after club trials. He will be in camp for a week in London."
Knife added, "Gatsi came through our junior ranks a few years ago and after impressing at our club we are now sure he will be able to make a mark in England. Some of the clubs coming to watch him are Queen Park Rangers FC, West Ham United FC, and Non-league team and also division clubs.
Munashe Gatsi is set to fly out on September 27 for the trials slated for the first week of October. Knife also thanked CBZ for rising to the occasion and responding to a media call for assistance, affording Munashe this once in a life time opportunity.