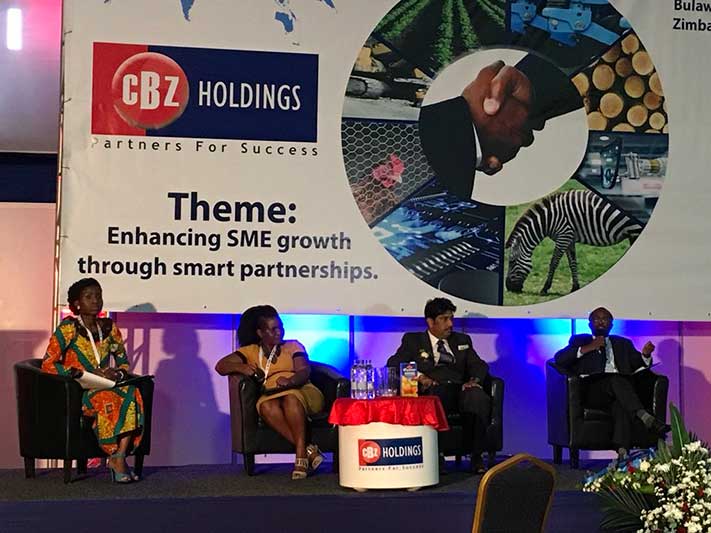 After the phenomenal success of the inaugural event CBZ Holdings will be hosting the second edition of the CBZ International SME Indaba under the theme "Enhancing SME Growth through Smart Partnerships" from the 21st to the 23rd of March 2018 at the ZITF Grounds Hall 4 in Bulawayo.
SMEs play a key role in economic growth and development in many countries around the world. They have become a dominant form of business venture in many developing economies and contribute to exports, employment generation, economic empowerment and poverty alleviation. Major strengths of SMEs is their flexibility and ability to adapt to market changes, more customer focused, a highly visible top management, low bureaucracy, an informal working environment, innovativeness, quick to seize opportunities etc. They face challenges related to financial constraints, less strategic thinking, lack of access to relevant markets lower standardisation and in some instances a weak legal and regulatory structure.
CBZ Bank has been at the forefront of supporting the growth of this critical sector as evidenced by the numerous ZNCC awards we have won over the past couple of years, as the Best Bank supporting SMEs in Zimbabwe.
The Indaba will bring together local, regional and international stakeholders, business leaders, national and international experts relevant to the growth of the SME sector. It will provide a unique platform dedicated to creating awareness of the challenges faced by SME's and provide solutions to the challenges highlighted through presentations and discussions with both local and international experts.
The Indaba aims at increasing the global spotlight on Zimbabwe's SMEs and highlighting opportunities for growth and the type of support available to them.
Objectives:
The objectives of the Indaba are:
to showcase the opportunities that exist for SMEs in Zimbabwe;
to strengthen collaboration between Government, Civil Society and the SME;
To provide SMEs with a forum to exchange ideas benchmarked against successful international SMEs.
to reinforce the relevance of innovation and technology to SMEs
to offer business education on various issues to SMEs
Provide a platform that promotes Smart Partnerships
SMEs from CBZ's perspective:
Asset Base USD10,000.00 to USD2 Million
Employment 5 to 75 people
Annual Turnover USD60, 000. 00 to USD5 Million
Capital requirement USD5,000.00 to USD300,000.00
The registration fee to attend the CBZ International SME Indaba is USD$50.00 per delegate. This includes participation at Business to Business meetings with the international delegates and local players, a two day conference and a high level networking cocktail evening.
An exhibition stand is only USD$100.00 and it includes a 3mx3m shell scheme stand, a table, 2 chairs, 2 spot lights and your company name displayed.
To attend the Indaba or to book a stand, follow the below link to download the registration form and email with proof of payment to [email protected]
Application Form