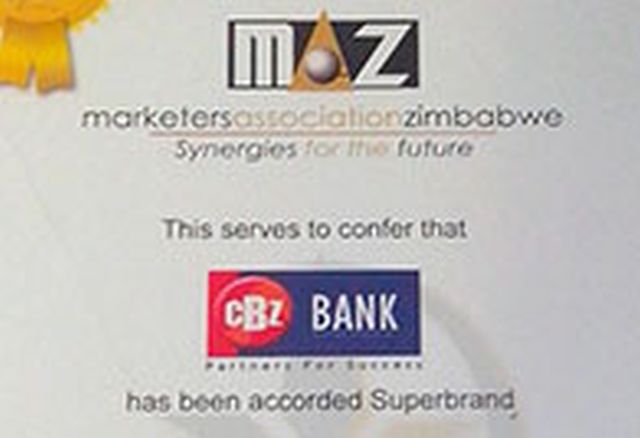 For the third consecutive year CBZ Bank has won the Super Brand Award in the Banking and Finance Sector and was among the top 10 Super Brands in the Business to Business Sector. The awards are conducted by the Marketers Association of Zimbabwe in conjunction with Select Research through a Customer Satisfaction & Brand Recognition survey which focuses on the individual, households and the Corporate Sector.
The initial stages of the survey involved consumers choosing their top 200 preferred brands in Zimbabwe across all sectors. The preferred brands are then placed in their respective sectors with a further selection process undertaken to shortlist 3 brands per category. CBZ Bank emerged the winners in the Banking & Finance sector, a feat that was also achieved in 2012 and 2013.
The second dimension of the award involved corporates being asked to identify the top 10 overall super brands in service or product offering to corporates (business to business). CBZ Bank emerged as the only banking brand in the top 10.
The awards thus revealed that both individuals and Corporates identified CBZ Bank as their preferred financial services provider in the Banking & Finance Sector in Zimbabwe.
CBZ Bank received the award at a glittering awards ceremony attended by over 400 guests from across all sectors held on the 5th of December 2014 at the Rainbow Towers.